One day I'm going to live in New York City. I'm gonna wake up and the lights of Times Square will slowly be dimming and the early morning hustle and bustle will have woken me up, but I won't care. I'll be living in a TEENY TINY loft apartment on the outskirts of the city. It will be decorated with stuff passed around in the family and from target and antiques stores but it will be insanely cute. I'll sell my car before I move and hop on the subway to get to work.
I'll own a little boston terrier named Charlie who will like to sleep at the foot of my bed. He will be soft and snugly and he'll try to keep me safe at night even though he is the furthest thing from a ferocious animal.
I'll take Charlie out in the morning, kiss my husband goodbye and on my way to work I'll grab coffee at Starbucks; a tall, decaf, nonfat, raspberry white mocha and they'll have my order waiting as I walk through the door. "The usual Laura?" "You got it! "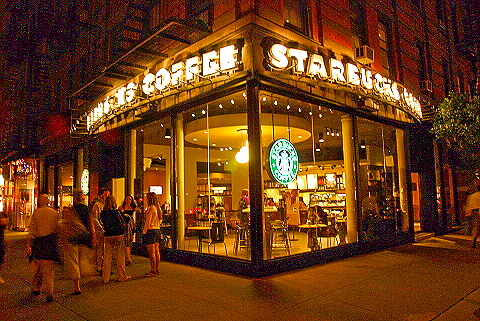 I'll be working in Greenwich Village for a local magazine while admiring the glass doors of Seventeen and Glamour, knowing my time will come one day; but for now I'll be using my Advertising/ Creative Writing major to help develop local ads for up and coming artist in the surrounding neighborhoods.
Me and my husband (whom I met at church when I first moved there) will order Chinese Take-Out from the cheap place down the street. (he's the artsy type; button down shirts, jeans and converses - hott) We will prop ourselves up on the couch and eat our sesame chicken while watching Cash Cab with charlie laying on my husbands feet.
In the spring we'll walk Charlie in Central Park and hand in hand we will stroll through the trees and admire the beauty of the park as everything begins to bloom.
My life will be similar to You've Got Mail (when she finally realizes it's Joe Fox) I'll fall in love with the autumn leaves and have bouquets of freshly sharpened pencils on my desk at work.
"don't you just love new york in the fall?"
I'm going to live there one day, whether its on my own or with a husband, but whether NYC wants me or not, I'm coming!
here's a link to Lindy's awesome new york video on my facebook.
ch ch ch ch ch ch check it out.