So lately I've been spending a lot of my free time "stumbling" under the food/cooking category and it became rather obvious that I have a major sweet tooth.
So here is some of the stuff I have been feasting on with my eyes.
Homemade coffee creamer! Doesn't that just
sound
good? I never realized how much noncreamer stuff went into creamer until I saw this online! These
recipe
s look awesome, especially this one
1 cup whole milk
1 cup heavy cream
4 tablespoons maple syrup
1 1/2 teaspoons ground cinnamon
2 teaspoons vanilla extract
1 teaspoon almond extract
Whisk together milk, cream, maple syrup and cinnamon in a medium saucepan over medium heat. When the mixture begins to steam, remove from the heat. Stir in extracts. Strain through a fine mesh sieve, pour into a glass bottle and store in the refrigerator.
Gotta love some flavorful coffeecoffeecoffee!
7 words...NO BAKE CHOCOLATE PEANUT BUTTER OATMEAL BARS...need I say more?
Gah, those look so good. I DEFINITELY have to try them.
So I love tacos...but I also love dessert.
And sometimes I feel like I have to choose...
Until I saw this... Genius.
and it's healthy too right...cause it has fruit? (nice try)
(Use this as a guide, but add any toppings you like!)
more toppings: melted chocolate, sweetened coconut, chopped nuts, whipped cream
Preheat oven to 350 degrees. Tear a thick strip of foil for each taco you plan to make. Crumple it, then bend it into a "C" shape. Set aside.
Spray both sides of each tortilla with butter-flavored cooking spray and sprinkle generously with cinnamon sugar. Lay tortilla on a baking sheet and fold over into a taco shell shape, with the foil "C" in the middle to help it keep its shape. Repeat for as many dessert tacos as you're making.
Bake for 7-9 minutes, or until golden; then turn tacos over and bake another 7-9 minutes, or until golden.
Cool completely. Build dessert tacos by filling bottoms of shells with ice cream. Top with fruit and other toppings of your choice.
You know that deliciousness of a s'more when the marshmallow has the perfect toastyness and the chocolate melts and it all smushes together into pefection. Yeah, I want that.
so here are some Peanut Butter- S'More Turnovers..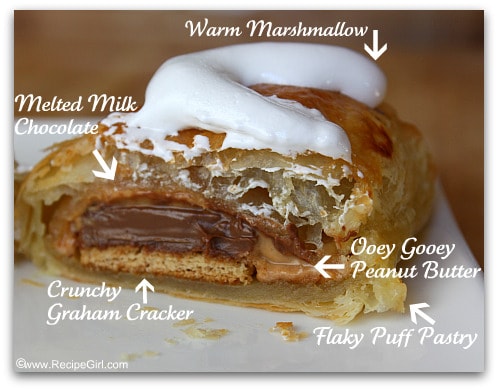 They seem pretty easy and they look UH-MAZING. Here is the
link!
Let me know how these turn out if you make any of them!