I can't.
I'd like a cup of coffee
spilling over the sides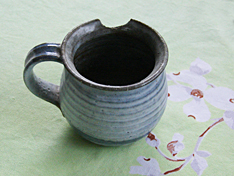 served in a blue ceramic mug
perfectly cracked (like me)
but without a piece
to get caught in the bottom (sharp edges)
to cut me deep down
because that damage has already been done.
I know I can't.
But you've got me on a strand.
A puppeteer on my heart- with each little tug
I'm drawn towards you.
And I want it to stop.
I can't focus on the words in front of me.
They progress across the page
tiny letters marching in a line...back and forth (seesaw)
My eyes blur and tears splash to form
black puddles from mascara and printer ink.
I can't right now.
its a guarded thing (what I should be doing)
but magnets -
South, North...you & me.
I want me only...
with my coffee and pity parties
and my tiny fractures to remain empty.
But you filled them
and I want to resist you
but I can't (I can't, I can't )
I just can't.